Engineering Managers have been missing valuable face time with their team members lately. Working remotely at all times due to COVID makes getting feedback from our team members a bit harder.
Receiving candid feedback from our team and acting on this feedback is crucial for creating a culture that cares to continuously improve itself and not fall victim to the gravitational pull towards mediocrity.
Today, we are introducing a new tool in ManagersApp's Team Module, Team Pulse Surveys❤️ to help EMs close this gap and collect insightful feedback about how their team members are doing.
Team Pulse Survey is extremely easy to start. It's a single click to start collecting valuable feedback.
Pulse surveys are meant to take < 60 seconds to fill out.
Pulse Surveys are anonymous. ManagersApp does not tie results to individual team members.
Team Pulse is free under the ManagersApp's Team Module.
If you have 2+ team members you can activate Team Pulse right away. Your team members will be asked 4 default survey questions every week. You can edit this list of questions as well. Pulse also provides email templates which can be used to let your team know about these surveys or remind your team to complete them.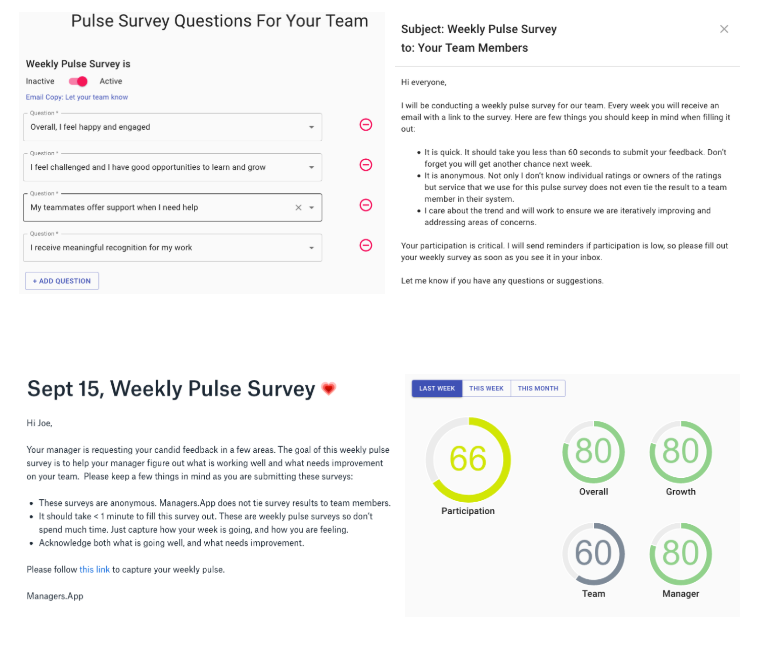 Team Pulse is available for engineering managers for free, sign up and start using it in minutes!